Walk around magic is a great way to ease the transition between the wedding ceremony and the reception. While the wedding party is being photographed, magic can help break the ice and entertain guests at the reception hall as they wait for the wedding party to arrive. If you want people to bring children to the wedding reception, letting them know there will be a magician there will make them feel more comfortable in doing so, rather than feeling they have to get a sitter or not attend because of their children.
Once dinner is over, we recommend there be no more magic or ballons, due to other events that must occur such as cutting the cake, father/daughter dance, etc. It is not appropriate to have the magic going on during these events because the focus should be on the Bride and the events surrounding her after dinner.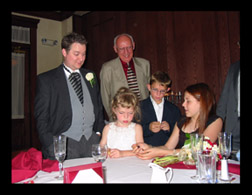 -Rehearsal Dinner Show
This is a stand up show that is performed for the wedding party after the rehearsal. This thirty to forty five minute show combines magic and comedy allowing the use of audience volunteers to assist in several illusions such as an arm chopper or the comedy routine in which a tux is put on a volunteer and they are transformed into a magician. This show is designed to be entertaining for adults as well as young audiences.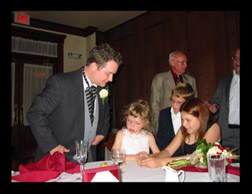 -Reception Walk Around
This show is very popular and occurs at the beginning of the reception while the wedding party is getting photos taken and again while guests are eating. The magician strolls among the guests performing small close up illusions. Balloon sculptures are available when there are children present.
Travis has performed at numerous weddings in the past and has over 15 years experience performing close up magic at receptions, restaurants, and dinner parties.